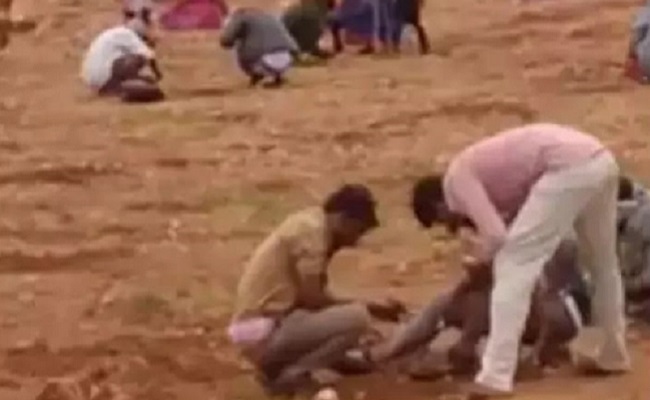 People from various parts of Andhra Pradesh were descending on Gudimetla village of NTR district for a diamond hunt after a family reportedly chanced on a big diamond, said to be worth Rs 60 lakh.
Men and women from not only surrounding villages and districts but also from other parts of the state were thronging the village under Chandarlapdu mandal.
A family from Sattenapalli town of Guntur district reportedly found a six-faceted diamond in the village during digging on Saturday night. It reportedly approached a diamond merchant who offered them Rs 60 lakh.
The family hit the jackpot during the routine diamond hunt, an annual affair in the village located on the banks of the Krishna River.
The diamond is estimated to be Rs 50 to Rs 60 lakh, However, the diamond merchants approached by the family offered Rs 40 lakh. The family is said to be waiting for the best price.
According to some accounts, at least three persons found diamonds during the digging they had taken up in the village in recent days. As the word spread, many families headed to the spot.
Several people can be seen digging the soil and carefully sifting through stones with the hope of finding diamonds. Two-wheelers are seen parked in the fields as people from other places descend on the village to try their luck.
Diamond hunting in the village is not new. During every rainy season, people throng the place to take up digging in fields and open places. They engage in the diamond hunt from morning to evening. Some families continued the work even during night times.
During the rainy season every year, people start hunting on the hill near the temple. Local people believe that since the Gudimetla area was ruled by kings, the area has many diamonds buried under the soil.
Some of the world's most famous diamonds, including Kohinoor, were discovered in the Krishna River basin. However, the large diamond mines have become defunct.
Rayalaseema region of the state is also known for diamond hunting. Last year, a farmer reportedly found a precious stone worth Rs 2 crore.
People hunt for precious stones in the agricultural fields between Guntakal and Pathikonda areas on the border between Anantapur and Kurnool districts.
Rayalaseema was known for trading precious stones and diamonds during the Vijayanagara empire.